Today (or, rather, yesterday) I went to the annual New York Chocolate Show that took place at the Metropolitan Pavilion on 18th street between 7th/8th Avenue with a couple of friends. There was quite a lot to see and taste. Reminiscent of a marketplace, shops were all lined up, merchants were waving over customers and giving explanations, and as I went around each and every booth and tasted the scrumptious sweets they had to offer, I thought I was in chocolate paradise.
The first shop located near the entrance was "Spices and Tease" which boasted its extravagant collection of, as its name reveals, spices and teas. The aromas of curry, tea leaves, dried berries, and, of course, chocolate all intermingled into an exotic scent.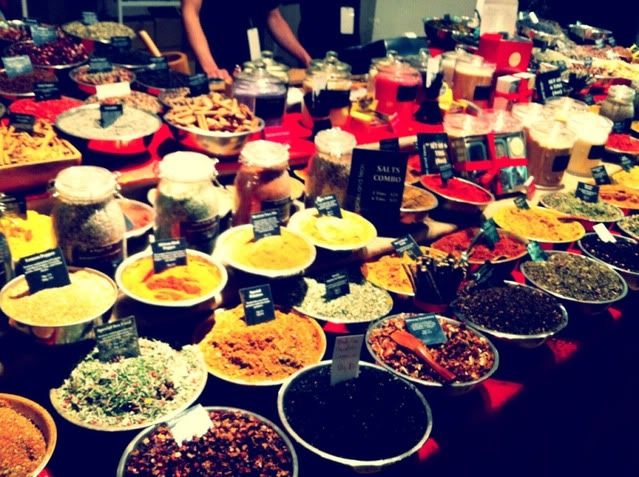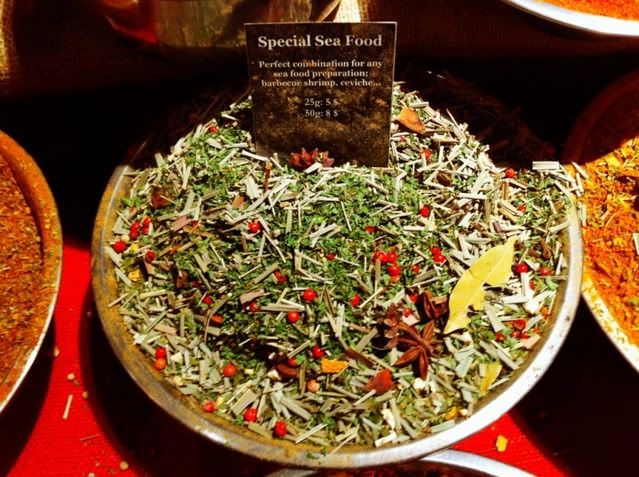 Now that I think about it, I wish I had purchased some unique tea and spices :-(
Next up was the booze - I mean, wine. I guess they infused cacao beans to create these chocolate wines. I tasted all four of them, and they all were sweet like dessert wine and tasted very strongly of chocolate - bittersweet with that stinging sensation unique to wine.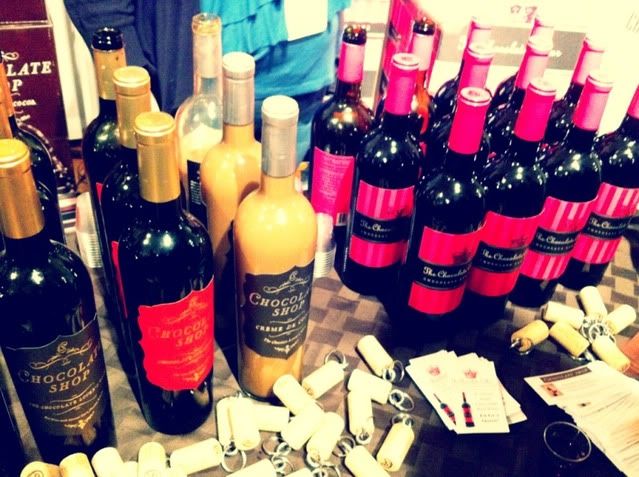 The bottle in the middle looked and tasted like coffee milk. All pretty interesting but, meh, I'm not a big fan of alcohol.
But I did get this cute keychain made out of a wine bottle cork.
Next up was Prestat from England. Apparently, they carry Queen Elizabeth's favorite chocolate - the mint chocolate - and have been providing her with it for the past 40 years. Not a big fan of mint chocolate, but according to my friend, it was pretty good.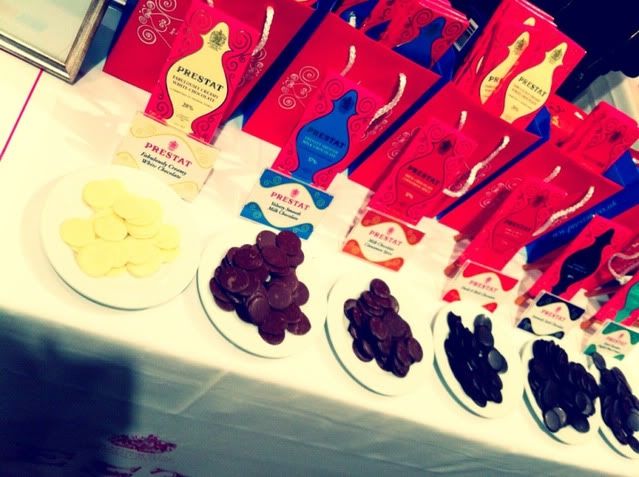 Their chocolates were all very smooth and melted wonderfully in your mouth.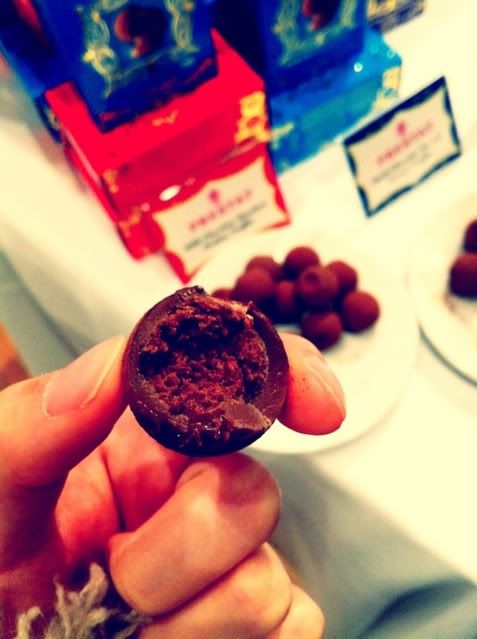 They also carried truffles. While I'm also not a big fan of truffles - I know, I know, picky chocolate eater - these were really good. The one I tasted was praline milk chocolate (or was it hazelnut?).
Next up was one of my favorite shops from the show, Aux Anysetiers du Roy.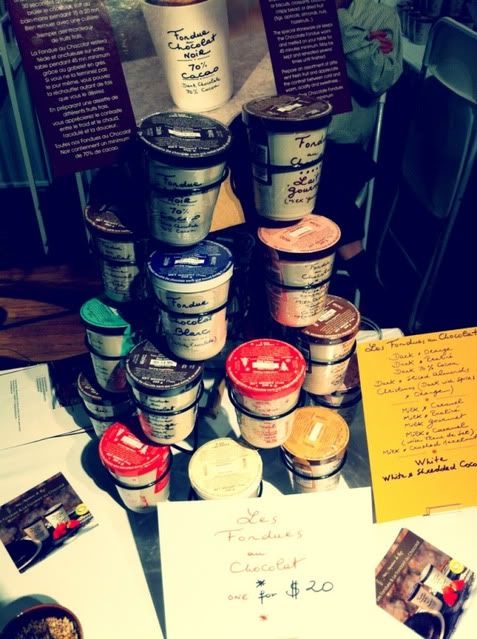 These are solid chocolates of various flavors contained in ceramic pots with a reusable, rubber lid. Basically, all you need to do is remove the lid, pop the pot in the microwave for 2~3 minutes (or in boiling water for 10~15 minutes), stir the melted chocolate, dip in your favorite fruit or pretzels, and voila, you can easily enjoy fondue! The ceramic pots are so adorable, and once you have finished all its sweetness, you can use it elsewhere, like storing sugar and whatnot.
I decided to get myself 70% cacao (dark chocolate) and Lait "Gourmet" (milk chocolate). I personally think fondue tastes best when the chocolate tastes like pure chocolate.
Next up was American Heritage Chocolate, which demonstrated how chocolate was processed and refined during the colonial days.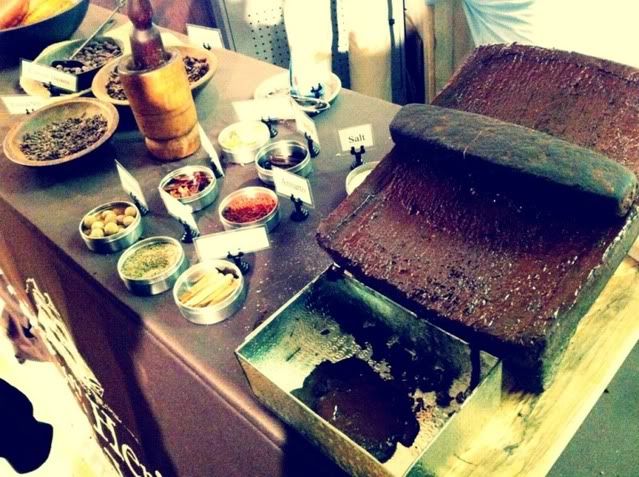 I felt like I was at a museum with a tour guide, but it was really interesting to see the process. The cacao beans were roasted and then crushed, which would then be ground on stone. Since trade was actively going on at the time, one could sprinkle spices and salts while grinding. The gooey substance was then hardened into chocolate bars. Chocolate was served as drinks, mixed with water, milk, or brandy. We tried it the "Martha Washington" style - mixed with water - and it felt like I was drinking some sort of chocolate elixir. I bet it would taste really awesome with boiled milk!
There were so many chocolates with a great variety of flavors and textures, that I think my palate for chocolate has definitely expanded!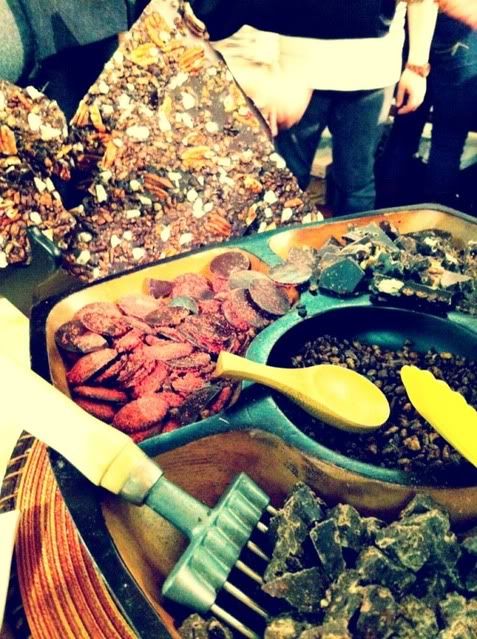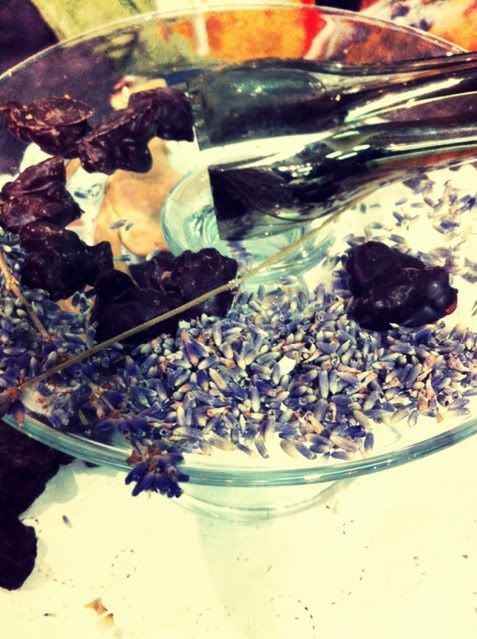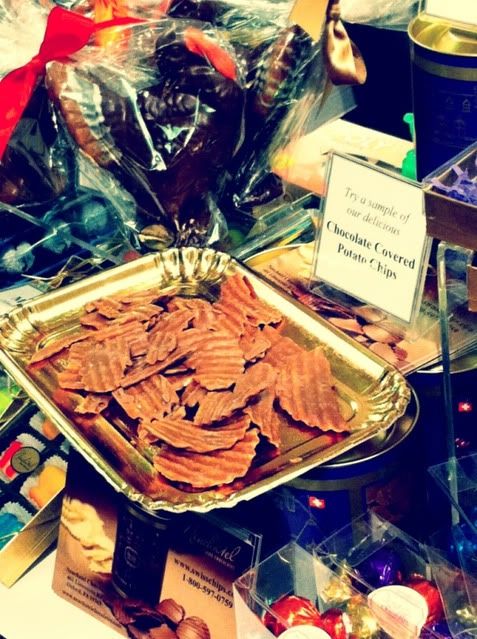 And this was one of our favorites - chocolate covered potato chips!! YUM YUM YUM!!!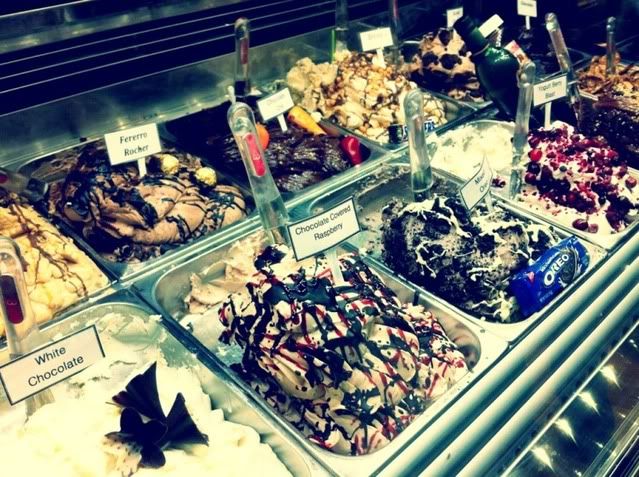 Around the midpoint of our adventures, we ran into an ice cream stand, and we tasted a spoonful. I tried the chocolate brandy one, although the owner didn't seem too convinced that I was over 21 (HARHAR).
And then more chocolate!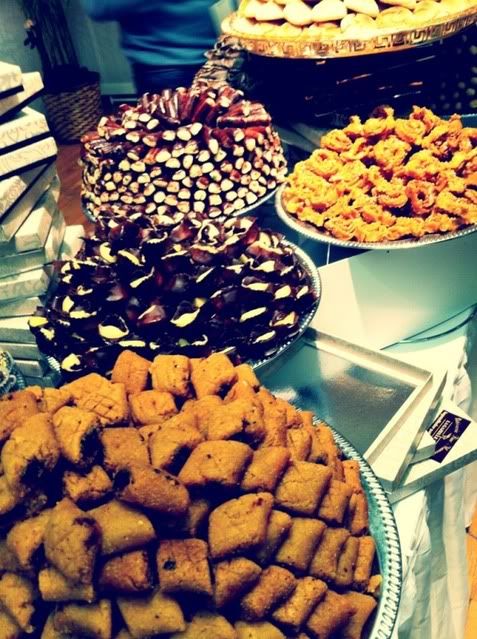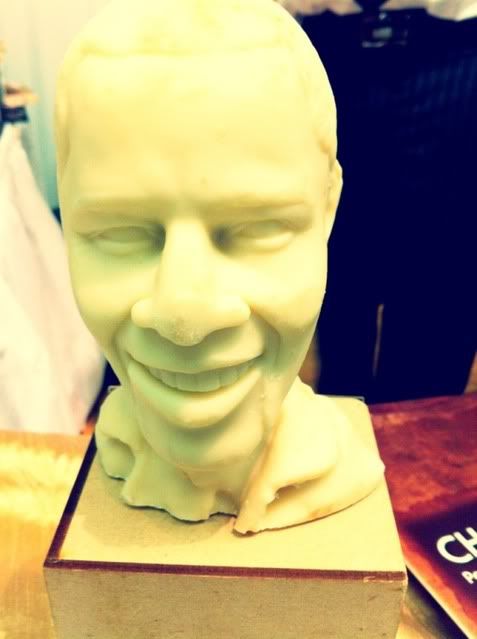 And, uh, Obama chocolate?
This was really cool - some students created Herald Square and Times Square with chocolate!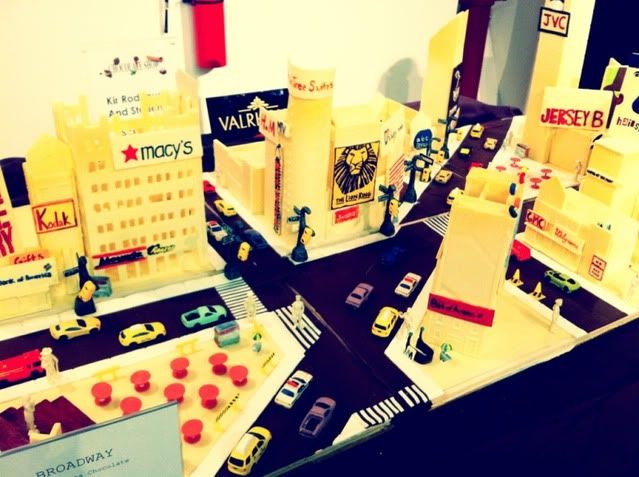 These were also my favorite! Little candies that came in such beautiful tins and boxes from Maison Boissier.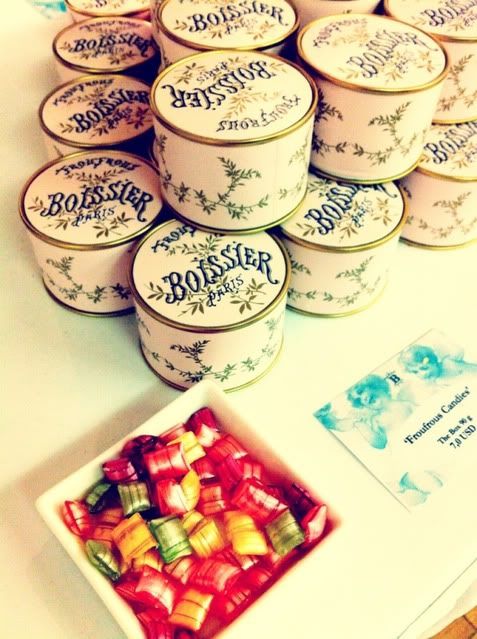 Contrary to its looks, these candies were very soft and chewy, though they kept sticking to my teeth.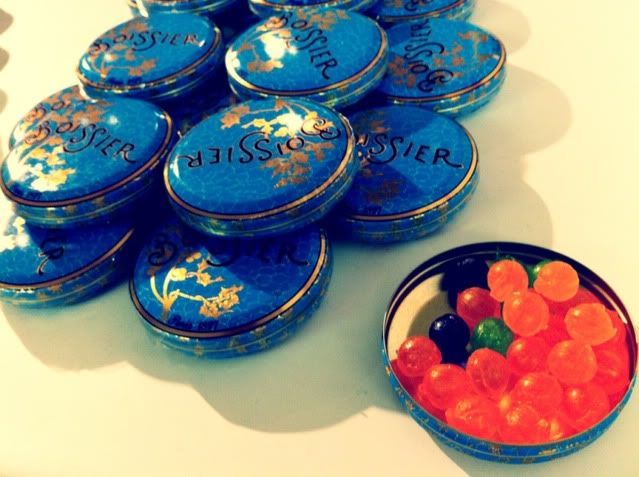 I didn't taste these... but I love the blue tin!! This candy reminded me of Charms Candy Sour Balls that our family used to enjoy years ago.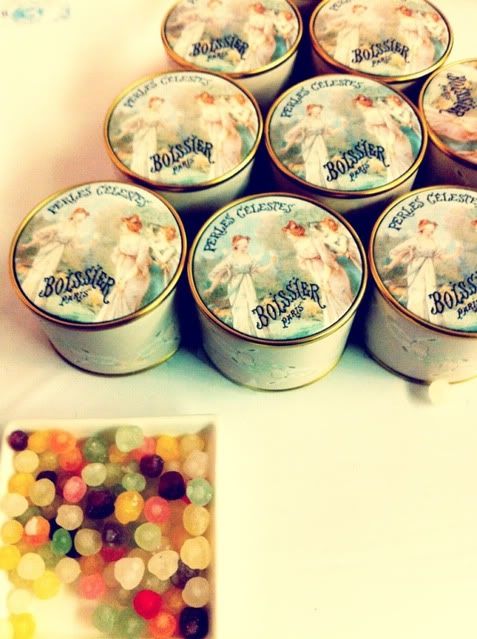 These were a delight! The moment you chew on them, they would burst and fill your mouth with sweetness. These were very small, and the juice was very light and not too sweet, so my tongue wasn't overwhelmed with sugar.
And, of course, what do I find? MACARONS!!! There were about three booths that carried macarons.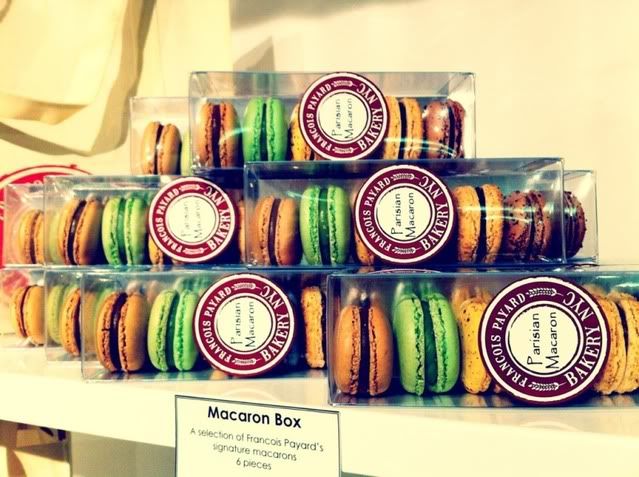 These were Francois Payard's macarons, which I had heard of before. I thought of getting these before I discovered this...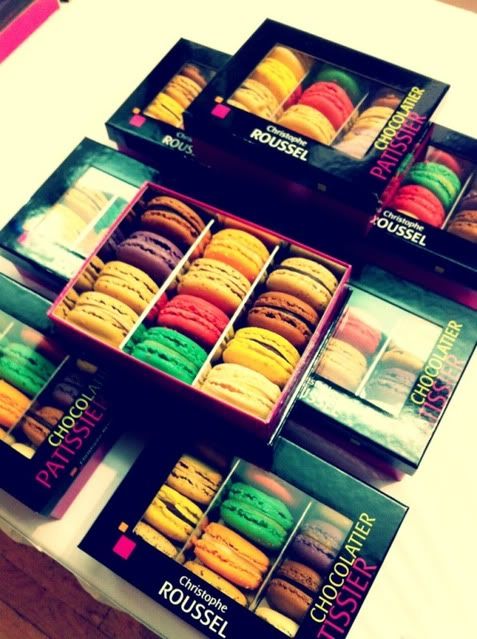 Macarons from Chocolate Christophe Roussel. They had a variety of flavors, so I decided to get these instead. Looking forward to tasting these tomorrow (well, today)! For now, they are chillin' in my fridge.
And being the macaron nerd that I am...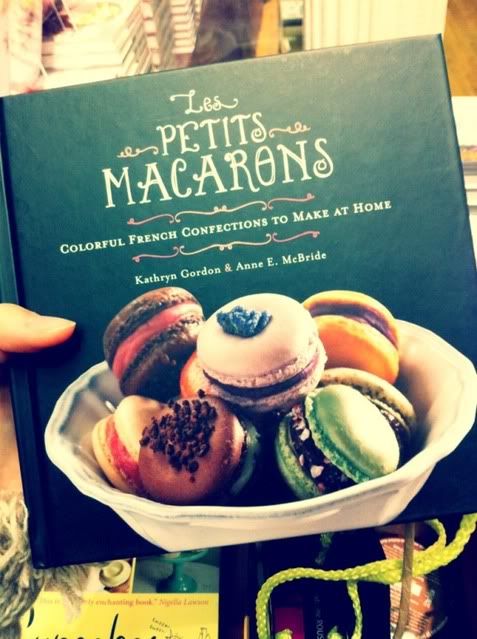 I got myself a book! A very thorough and comprehensive book on macarons... with NUMEROUS flavors and fillings, including four different ways of making macarons - the French style, Italian style, Swiss style, and a very quick and easy way to make macarons when you are short on time. Hopefully I'll review this book soon on this blog (crossing fingers).
Overall, the show was fun to look around, although I did get a bit sick of chocolate (I never thought this was possible for me) by the time I was through with looking at all the booths. Recommended if you love chocolate and would like to see and taste something different from your standard chocolate bars!
...and I should be packing, not posting on my blog. I HATE PACKING!!!